COEX Supertuff 3-Ply Antimicrobial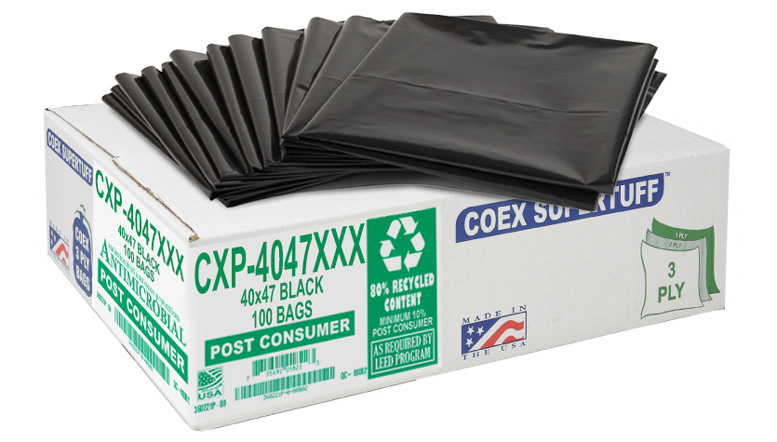 LEEDS compliant COEX Supertuff CXP is SCS Global Services Certified, guaranteeing at least 80% recycled material composition, of which 10% is certified post consumer waste content. This unique product meets LEEDS criteria for municipal, state and federal regulations. ALUF Plastics is proud to offer these bags with SCS Global Services Certified Post Consumer material and is manufactured with genuine antimicrobial protection on the surface of the bag. Antimicrobial Odor Control Protection compounds; provides an additional feature which inhibits the growth of odor-causing bacteria on the inside and outside of the bag, keeping surfaces cleaner between cleanings. This highly engineered tri-laminated product incorporates extra strength at lower gauges while providing an advantageous cost in use when compared to traditional black bags. These bags feature star sealed bottoms for leak-proof strength, and are packed in a handy dispenser carton.
"*" indicates required fields
Features
Antimicrobial odor control
Manufactured with genuine Antimicrobial Odor Control Protection Technology
Tri-Laminate Technology
Leak-Proof Star Seal
3 PLY
Ideal For
Cleaning Crews/Janitors
Healthcare
School Systems
Commercial Facilities
Construction Projects
Restaurants/Delicatessen
Apartment Buildings
Antimicrobial Protection
COEX Supertuff 3-Ply Antimicrobial liners are manufactured with antimicrobial protection, which inhibits the growth of odor-causing bacteria on the inside and outside surfaces. Antimicrobial compounds are built in during the manufacturing, so protection will not wash off or wear away.
Learn More
Questions or Ready to Order?